Mobile WALDNER SARS-CoV-2 test laboratory
Smart, efficient and sustainable laboratory according to WHO / CDC guidelines for the SARS-CoV-2 test put into a mobile lab infrastructure solution to support the global fight against COVID-19.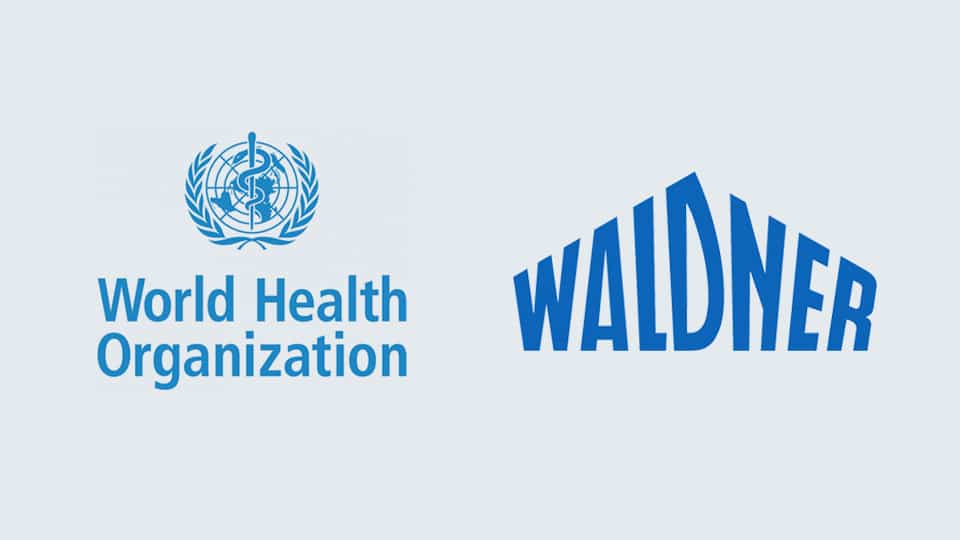 Agile laboratory infrastructure solution to support the fight against COVID-19
WALDNER's concept: we provide TEST CAPACITY. Where the sample swabs are taken and how they get to the lab is not part of the solution. We do not provide personnel or organization, no probe logistics and no swab taking.
We provide a turn-key, self-contained, system that only requires electricity, water and a place to set up. The mobile laboratory is fully equipped with all the necessary infrastructure and fully automated high-tech diagnostic tools. Our solution is based on standard laboratory equipment, which can achieve an optimal cost/benefit ratio if operated by trained local laboratory technicians, without becoming dependent on expensive consumables.
Basically, it is a BSL-2 virology laboratory according to the diagnostic and safety recommendations of RKI (Robert Koch-Institut, Berlin) and following the special WHO and CDC-instructions for testing SARS-CoV-2.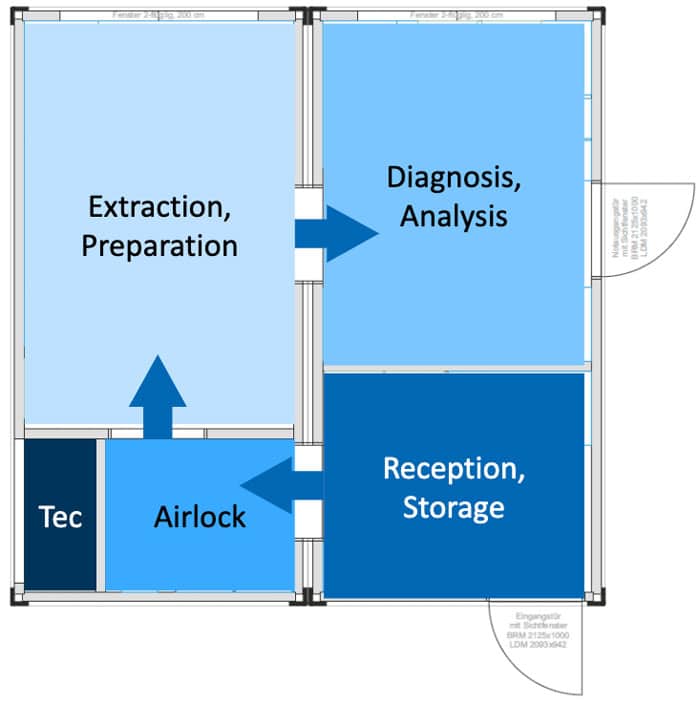 "Due to the high volume of samples and materials in the mobile SARS-CoV-2 diagnostic laboratory, a central, upstream area for collection and temporary storage is used for sample and material logistics. Only then does it pass through an airlock into the sample preparation (extraction), where the samples are opened under BSL-2 safety criteria and prepared for the actual analysis. Once this is done, two rRT-PCR devices are available in the diagnostics department, each with a test capacity of approx. 35 tests / h. Thus, a high test capacity in the smallest possible space is aimed for".
Mobile laboratory according to international guidelines for the SARS-CoV-2 test and if requested to local health authority specifications
Sustainable, scalable concept for various pathogens. Can later be flexibly reused for other tests (e.g. tuberculosis, gene tests, measles, flu, doping tests) as it enables most molecular biology identification tests, until Bio Safety Level 3 risk group pathogens
Instruction through VR-supported online training on the Digital Twin
Including all necessary equipment for the process Real-Time PCR (rRT-PCR)
8-fold air exchange, HEPA filter system, partial air conditioning (cooling and heating)
Sufficient cooling and deep-freezing capacity for intermediate storage of samples
According to TRBA-100 (German Technical Rules for Biological Agents)
Certified Class II Biological Safety Cabinet
Easy integration into an existing waste management system
Minimum preparation for set-up (surface, small baseplates), ideally a parking area next to a hospital
Commissioning on site by a Waldner team
Plug & Play through plug-in supply connections for electricity, water supply and wastewater
Vandalism protected
Optional management and supply of consumables
Optional solar panels / battery buffer
Optional additional logistics container including water purification, uninterruptible power supply with voltage and frequency monitoring, additional storage for consumables, autoclave (all samples and waste are inactivated), temporary waste storage depot, satellite antenna for communication and data transmission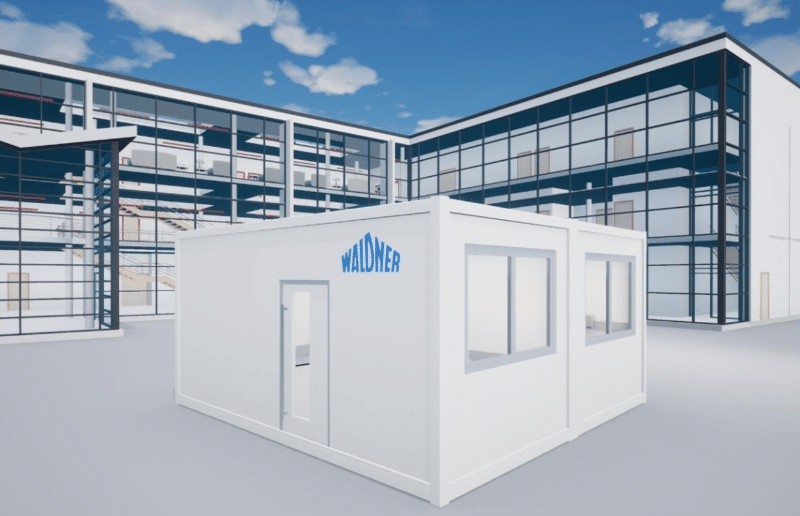 Dimensions
6 m x 6 m x 3 m with a weight of appr. 8 t (for a total of 2 containers)
20 ft x 20 ft x 10 ft with a weight of appr. 17.500 lb. (for a total of 2 containers)
Electrical connected load: 25 kVA, 32 A CEE plug, 230 VAC (Standard)
Personnel
2 persons per shift are required for the test operations
Capacity
2 x 96 = 192 samples/cycle – each test has 4 samples = 48 tests/cycle
approx. 1.000 tests per day at 24 h
Various test strategies can be applied, which can result in a factor of 10, for example